30.8k to 38: Development Bank of Saint Kitts and Nevis Joins Independence Day 38 celebrations with decoration contest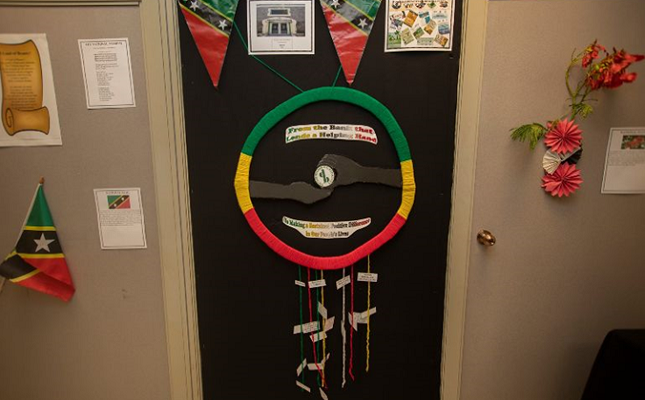 Independence decoration at DBSKN

Through:

(SKNIS)

, Press release

Basseterre, Saint-Kitts, September 20, 2021 (SKNIS): The Development Bank of Saint Kitts and Nevis (DBSKN) joined the 38th Independence Day celebrations with its first-ever Internal Independence Decorating Competition, which took place September 1–17, reaching a digital audience of over thirty thousand (30K).

In a recent interview, Chantelle Rochester, Head of Marketing and Product Development, said the competition was a way to highlight how the institution, since 1981, has helped the citizens and residents of St. Kitts and Nevis to create their own independence by giving them access to Home-Ownership, Business Ownership, Education and Promotion of Team Spirit among staff members.

Ms Rochester added that the overall goal of the competition was to enable people to better connect with the institution, not only to be seen as just a bank, but also as a partner in making their dreams come true.

"What we wanted to show to the public was that we are more than a bank or a building on the corner of Church and Central Street. We are your financial partner, and we are flexible enough to be able to work with you to achieve your goals. dreams no matter how small. "

Another reason, she said, is to highlight the products and services that DBSKN offers.

"Student loans are now six (6%) percent versus nine (9%) percent previously; we also have COVID-19 relief funding for students of up to ten thousand ($ 10,000) at 3%. A mortgage is now at five (5%)%; we have the financing of agriculture; we have business financing where you can access up to one hundred thousand ($ 100,000) at an interest rate of five (5%) percent. We also have investment opportunities, especially our Student Loan Investment Product (SLIP), where parents can start investing in their child's future education from an early age and earn 3.5% d 'interest on their savings, "said Rochester.

The Development Bank of Saint Kitts and Nevis has always been the cornerstone of small business development. When you think of your community store, the fisherman, or any small to medium sized business, you see DBSKN.

The Competition has been segmented into two parts. In the first segment, each floor, including our Nevis branch, was assigned a color of the national flag. A theme was then associated with each color. For example, yellow represents the sun, however, for DBSKN this means "a new banking paradigm", where we see ourselves growing as an institution, providing a more digital experience for our clients. Black represents our African heritage, for us it is "A Journey From Where We Came"; for Green, we presented our "agricultural product"; and for White, hope and freedom, the existence of DBSKN brings hope while our products and services financially liberate our customers. Red represents "financial freedom" and the hope of economic improvement.

Photos of the decorations were then uploaded to the Bank's social media platforms where the public was to like, share and comment on their favorite of the five decorations.

Second, September 17, 2021, dubbed Judgment Day, was designated the day when staff were required to explain the meaning of their decor and how their respective themes were integrated. Several judges visited the bank and voted for first, second and third place in the competition. This year's judges included the Premier of Saint Kitts and Nevis, the Honorable Timothy Harris, Chairman and Board of Directors of the Development Bank of Saint Kitts and Nevis.

The winners of the Saint Kitts and Nevis Development Bank interactive independence competition will be announced on Tuesday, September 21, 2021 via all social media platforms DBSKN, YouTube, Facebook and Instagram; @developmentbankskn.

Disclaimer

This article was published in its entirety as received by SKNVibes.com. This media house does not correct any spelling or grammatical errors in press releases and comments. The opinions expressed herein are not necessarily those of SKNVibes.com, its sponsors or advertisers.