Assembly overturns mayor's veto on ordinance that limits free speech rights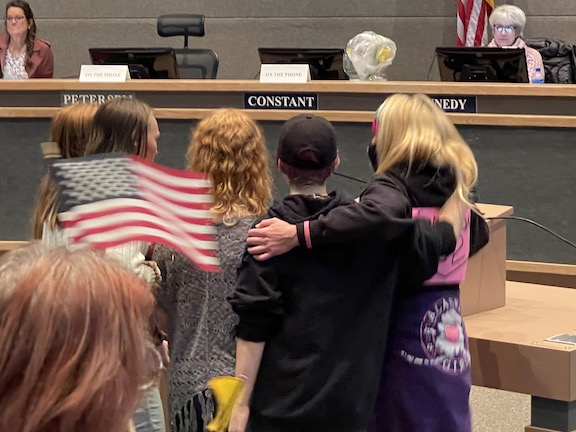 In a hastily called meeting to respond to Mayor Dave Bronson's veto of Anchorage's Anti-Liberty Ordinance 2021-117, the Anchorage Assembly voted 9-2 on Friday to override the veto and enforce the prescription. Chugiak-Eagle River Assembly free speech champions Jamie Allard and Crystal Kennedy voted against the waiver.
The order prevents people from using their three minutes on the podium to lead a silent protest and gives greater authority to remove people from meetings to the Speaker of the Assembly.
The Left Majority has struggled to control the public at its meetings due to the strong disagreements the public has with members of the Majority now known as the "Marxist Nine". The Assembly, in response, is now cracking down on free speech rights, including banning what people can bring to meetings with them. Things like American flags, for example, which the Speaker of the Assembly now has the power to consider dangerous or inconvenient.
"Mayor Bronson supports the Assembly's right to manage its meetings," the mayor's spokesperson said in a statement. "But they have no right to infringe upon the constitutional rights of citizens, including their right to petition their government. The mayor supports the First Amendment, which gives every citizen the right to address their government.
The Assembly also had something to say in defense:
"This Ordinance is a simple and straightforward codification of long-standing procedures that ensure order and safety at Assembly meetings. It is essential to the functioning of the Legislative Branch of our City Government that the Speaker of the Assembly has the tools and resources necessary to conduct meetings effectively," Speaker Suzanne LaFrance said in a statement. "The Assembly Rules, Anchorage Charter, and Anchorage Municipal Code provide an abundance of opportunities for public input, opinion, and transparency. Changes to this order do not detract from these important rights of citizens to speak up and access their government. What it does do is is to prevent actions that may disrupt the activities of our municipality and put participants at risk for their safety.
Opening the special meeting, Vice President Chris Constant said the mayor's concerns about First Amendment issues were unwarranted. "The ordinance clears up several contradictions; makes the rules of the Assembly more transparent and user-friendly; and the vast majority of its necessary updates are uncontroversial.
Assembly leftists have shown a tendency to use their rules selectively against members of the public on numerous occasions over the past two years, when the public suddenly became more interested in what the Assembly was doing.