Enjoy freedom, mobility | | hccommunityjournal.com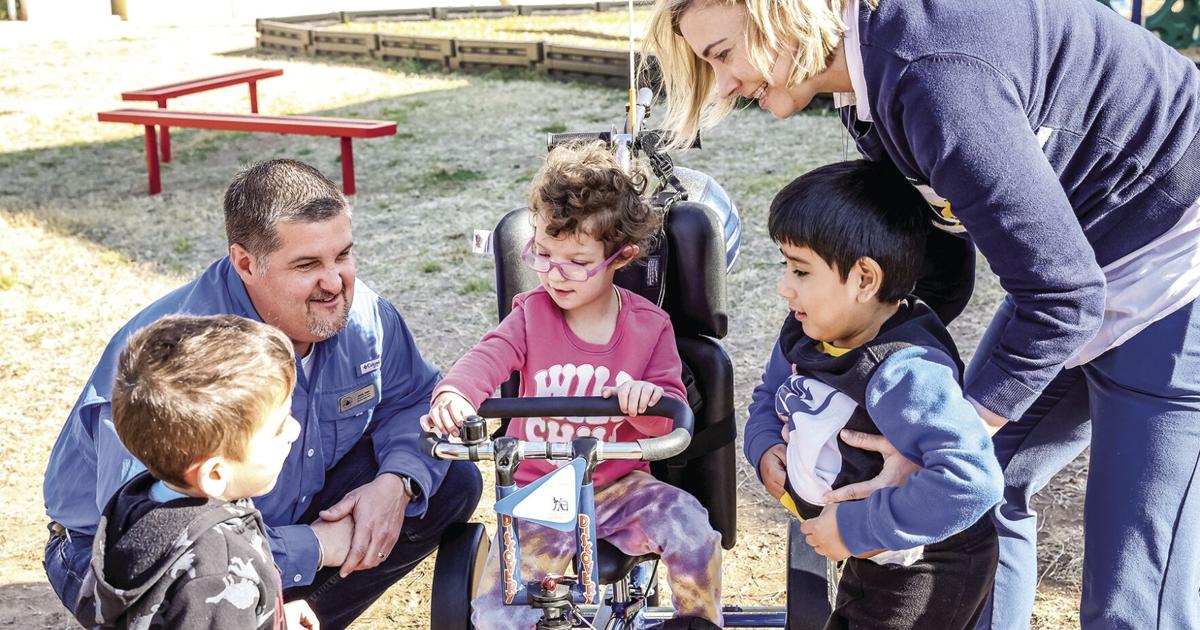 Students at the Kerrville ISD Early Years Center couldn't wait to see an official presentation of 12 adapted trikes on Friday morning because they were just too excited.
The tricycles were donated to KISD through a Believe It foundation and an anonymous donor, according to Vickie Stuart, physiotherapist at KISD, and unveiled Friday morning at the ECC.
"The Believe It Foundation, along with an anonymous donor, has approached KISD's Special Education Department to fund special-needs tricycles to promote mobility and inclusion in our schools during PE, recess and sensory motor pauses," Stuart said. "Mr. William McGinnis, Believe It Coordinator, and a graduate of Tivy High School '04, coordinated with Stephanie Drake-Woods, KISD Occupational Therapist, and Dr. Vickie Stuart, KISD Physical Therapist, to customize each adaptive trike to fit different specific orthopedic and neurological problems positioning needs of our students.
The grant and private donation funded 12 adaptive trikes for use throughout the district, including a tandem bicycle for use with visually impaired students and two full-size adaptive trikes to help middle and high school vocational programs, Stuart said.
"More than 50 students will benefit from these specialty bikes," Stuart said. "The purpose of the grant is to enrich the lives of children with physical disabilities through the inclusion of these children in the lives and experiences of those who do not face the same limitations."
While a semi-official ceremony was scheduled for the unveiling, the ECC kids were so excited they just started enjoying it.
"The kids are so excited to have this new program," Stuart said. "It allows our physically challenged children to get out of their wheelchairs, walkers or braces and explore a whole new way of getting around with their friends."
Lauren Jette, public relations specialist for KISD, said the bikes were delivered fully assembled and were sourced from Canada.
The goal of the early childhood special education program is to provide a quality preschool experience that prepares students with special needs to succeed in their school environment, Stuart said.
"We offer meaningful programming that includes speech, occupation, and physical therapy, as well as a specialized program taught by Ms. Dana Dunagan and Ms. Rebekay Huffaker, which helps our students and their families meet their challenges unique. We are very grateful for the support of the community to help our students succeed.