For workers' rights and refugee rights. Why Aran Mylvaganam is running for the Senate.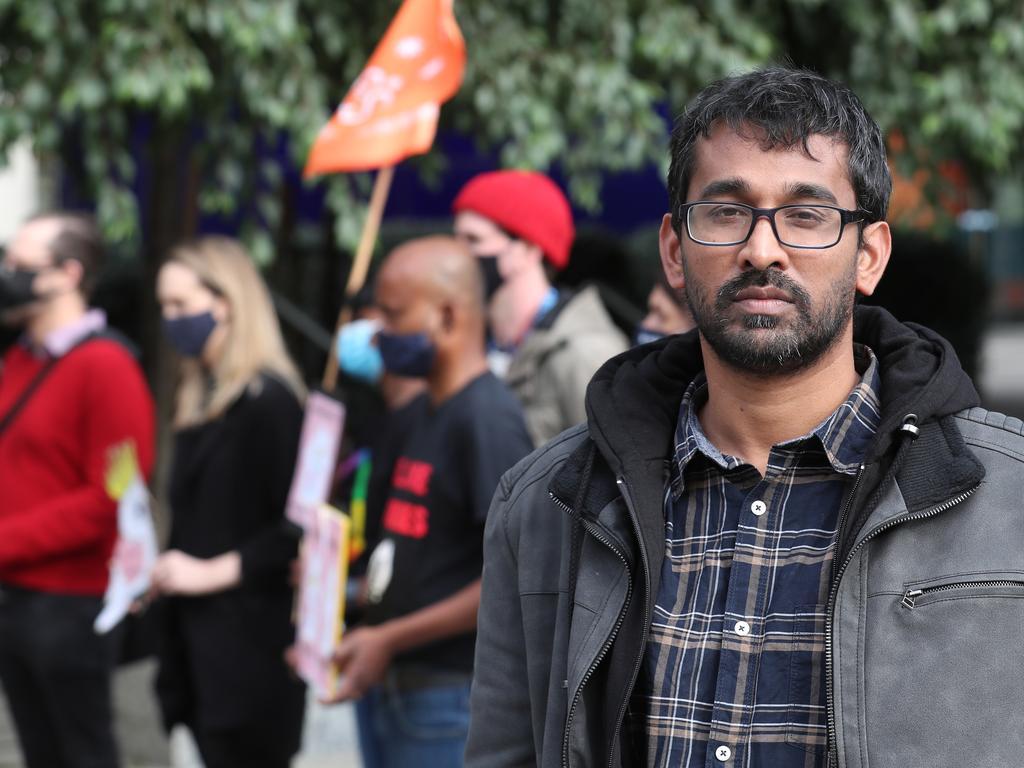 Aran Mylvaganam arrived at Sydney International Airport alone when he was only 13 years old. He did not speak English but, like any refugee, understood the word "visa". And when immigration officials asked him for his, he knew he couldn't give them one.
Australia was only a year after John Howard's long tenure as Prime Minister. Aran had fled the war in Sri Lanka. He has now entered a country with a brewing political conflict, a conflict in which refugees would be at the center of the debate. He was transferred to Villawood detention center, where he remained for three months.
"There was a conversation at that time about refugees and foreigners entering this country," says Aran. "It was the time when Pauline Hanson was becoming popular. There was so much fear in the migrant community at that time that Hanson was going to expel all Asians from the country. You could also see the conversation going on in the community and people were worried. "
Aran had lived in Tamil Eelam, the homeland of the Tamil people in the north and east of Sri Lanka. "I was born into war," he says, describing successive waves of pogroms and military violence perpetrated against his people by the Sri Lankan government and Indian troops. The whole of Tamil Eelam has been under Sri Lankan occupation since 2009.
The 2013 documentary Fire Free Zone: Sri Lanka's Killing Fields gives an idea of ​​the scale of the atrocities committed against the Tamils ​​in the final months of the military conflict. Decades of oppression and violence against Tamils ​​led to armed resistance and the founding of a national liberation movement led by the Liberation Tigers of Tamil Eelam (known as the Tamil Tigers).
The Tigers controlled an autonomous region in much of Tamil Eelam in the 1990s and 2000s. But it was destroyed by a major military offensive from Sri Lanka from late 2008 to early 2009.
During this offensive, the Sri Lankan authorities created so-called no-fire zones, ordering hundreds of thousands of Tamil civilians to take shelter there for safety. But the areas were then bombed, downsized and relocated, then shelled again, sending the survivors into smaller and smaller battlefields.
When United Nations workers sent their contact details to the Sri Lankan government in an attempt to ensure the safety and security of aid operations, they were also attacked. Makeshift hospitals have been bombed. New ones were hastily installed and shelled again, until the International Committee of the Red Cross decided to no longer provide the Sri Lankan government with contact details for hospitals, which had been attacked about 65 times.
Tens of thousands of Tamil civilians have been massacred in a matter of months. No fire zone is proof that the government and the military have perpetrated the most barbaric war crimes, for which they still have not paid the price.
But the tactic was not new to the Tamils, nor to Aran. In 1995, when Aran was 11, the Sri Lankan Air Force dropped leaflets on his village. The leaflets ordered civilians to take shelter in schools, churches and temples if fighting broke out, which they did a few days later.
"People followed their instructions, but they shelled our school. That day, I lost my brother and three cousins, "says Aran.
"It wasn't just one bomb. A bomb fell and we all ran. While we were running, bombs were dropped on the tamarind tree in front of my house where many people were hiding. It was a big tree with a big canopy you could hide under, so it was bombed by the Sri Lankan Air Force. In Sri Lanka we all wore white uniforms so it's not like they couldn't see they were school children.
"From there, I was basically on the move, moving from place to place internally. In 1997, my family decided to get all the young children out of the country.
Some of the young members of Aran's family arrived in Europe, others died on the way. His 17-year-old older brother arrived in Australia a few months before Aran and was held at the Maribyrnong Detention Center in Melbourne. After their release, they lived with other refugees in Dandenong. It took three and a half years and a community campaign for the Australian government to allow him and his brother to reunite with their parents, a right to family reunification that refugees were entitled to at the time.
Amid the continuing decline in refugee rights in Australia, Tamils ​​felt a special moment of desperation and concern after the 2009 massacre. The Labor government, which was committed to fully supporting the Sri Lankan regime, began to target Tamil refugees.
The situation led Aran and prominent sports journalist Trevor Grant to establish the Tamil Refugee Council in 2011.
"The Labor government, on the one hand, was helping the Sri Lankan government, making statements of support and providing financial and diplomatic support to war criminals. At the same time, Tamils ​​who fled the genocide in 2009 and came to this country were treated very differently, "he said.
"Refugees in general have been treated very badly by the Labor government. But when it comes to Tamil asylum seekers, they gave them negative security ratings. Julia Gillard introduced an improved selection process and many people were turned over to the Sri Lankan authorities without even having their applications assessed.
"It was also around the time when Scott Morrison, Tony Abbott and Julie Bishop, while in opposition, visited Sri Lanka quite regularly and made statements in support of the Sri Lankan government."
Over the past decade, the Tamil Refugee Council has campaigned relentlessly against Australia's anti-refugee policy. A flashpoint for the organization was the campaign to free the Murugappan family from Biloela, Queensland – Priya, Nades, Kopika and Tharnicaa – whom Aran has come to know well during their three years in detention.
The Tamil Refugee Council was founded, Aran says, because Tamils ​​knew they had no friends in parliament. They must have tried to mobilize the larger community behind them.
This is the same reasoning that he says is at the root of his campaign to lead the Victorian Socialist Federal Election: There are no reliable friends of refugees or workers in the ruling parties in Australia. . The only way to challenge them is to build our own movement.
"I am running for the Senate with the Victorian Socialists because I think we don't have politicians in Canberra speaking for the majority of Australians," he said.
"The majority of Australians have been taken on walks for many years by the two major political parties. Whether it's our rights at work, climate change action, refugee rights, women's rights, both major political parties have contributed to the problems.
"The solution to this is not to elect more politicians who will end up being a voice for the ruling class; it is about electing politicians who will be a voice for the workers, a voice for the oppressed, and who are used to standing up for these people.
The Senate is filled with politicians who built Australia's refugee detention regime and who claim Sri Lanka is safe for Tamils. The policies they write and vote for are designed to crush the minds of refugees and their supporters and – to use the words Aran has spoken at numerous protests – to divide the working class, by keeping it more poor so that the rich can get richer.
But Aran never gave up. And he put his beliefs into action, working as a union organizer to fight for a better deal for all workers and to build solidarity among all oppressed groups.
"For the past 20 years, I have fled a war that in many ways served the interests of world powers," he says. "I came to this country as a refugee, I lived here below the poverty line, struggled to get three meals a day but managed to get into university. Once I entered the workforce, I fought for workers' rights, became a union organizer and continued to do this work while fighting for refugee rights.
"I believe I have proven myself to be a real voice for people. "