History Repeats Itself With Ukrainian Grain Theft – Indianapolis Business Journal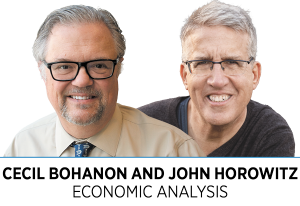 The Wall Street Journal recently documented the Russian military's confiscation of hundreds of thousands of tons of grain from newly occupied areas of Ukraine. The military coordinated the transport of grain to the Crimean port of Sevastopol for sale for export to Russia's Middle Eastern allies.
Russia steals grain from Ukraine for the benefit of Russia. Haven't we heard this story before? Yes, it's called the Holodomor. The word is a compound of the Ukrainian holod (hunger) and mor (plague), or "death from hunger". During the 1930s, Joseph Stalin forced the collectivization of Soviet agriculture. Independent farmers in Ukraine resisted, and the Soviet government responded by confiscating their grain. It is estimated that between 3.5 and 5 million people died of starvation between 1932 and 1933.
The 2019 film "Mr. Jones" depicts British investigative journalist Gareth Jones' documentation of the Holodomor. Jones noted that, despite anecdotal evidence that grain production was declining in the Soviet Union, Soviet grain exports were funding Soviet industrialization. During a surreptitious visit to Ukraine, he observed and recorded the ongoing famine. His information was denied by both the Soviet authorities and by New York Times Moscow correspondent Walter Duranty. History is sad, especially when it repeats itself almost 90 years later.
Thirty years ago, it was hoped that such predation by a national government would be consigned to the dustbin of history. The Soviet Union and the Warsaw Pact had been dissolved, Saddam Hussein was defeated in his attempt to seize oil-rich Kuwait by an international coalition in the first Gulf War. An era of global trade has emerged and the percentage of the world's population living on less than $2 a day, the World Bank's definition of extreme poverty, has fallen from 36% in 1990 to less than 10% in 2015. In the post-Cold War world, aggressor countries would be deterred by their fear of isolation and international avoidance.
However, Russia's action in Chechnya, Georgia, Crimea and Syria, China's gulags of ethnic Uyghurs in Xinjiang and its oppression of Hong Kong, as well as other lingering conflicts in Africa and Asia, foreshadowed what was going to happen in Ukraine.
Aggression supported by weapons pays, or at the very least, consolidates political power. International humiliation and even economic sanctions turn out to be weak forms of retaliation. So much for the fantasies about a 21st century rules-based international order that makes old-fashioned land warfare unthinkable. Unfortunately, this does not happen.•
__________
Bohanon and Horowitz are professors of economics at Ball State University. Send your comments to [email protected]