How to pay off a loan faster: 3 key strategies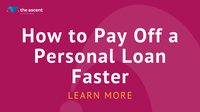 1. Cut a few small expenses in your budget
One way to get extra money for an extra payment is to cut a few small costs out of your budget. Of course, you could save hundreds of dollars each month if you had to pack up your apartment and shrink it down to a smaller space in a cheaper neighborhood. But in doing so, you would probably make yourself miserable, so it might not be worth going to that extreme. Instead, take a look at the small changes you can make.
If you want to know how to pay off a loan faster, try to save some daily savings and use them to pay off the outstanding loan balance. Here are some ways:
Brew your own coffee instead of buying it outside of the house
Skip one take-out a week
Cancel the cable and replace your plan with a streaming service at quarter the cost
Reduce your mobile phone plan (if you work remotely and have an internet connection at home, you may not need as much data as before)
End your gym membership and work out at home or outdoors instead
Maintain your home instead of paying for services like snow removal and lawn care
These are just a few examples, and each on their own may not make a huge dent. But the point is, cutting back on the little things could help you make more than the minimum payment – and get rid of your debt without having to uproot your life.
2. Increase your income with extra work
If you want to learn how to pay off a loan faster and get rid of the balance this year, increasing your income might be the way to go. And if you don't get a raise at work, you may need to take matters into your own hands and find a workaround. You have different options, and the side job you choose should depend on your skills, the type of work you like to do, and whether you prefer a job that you can do remotely or not.
Here are some income opportunities to consider:
Driving for a ridesharing company
Animal care
Guarding
Provide child care
Tutoring
Telemarketing
website creation
Retouching
Medical billing
Grocery or food delivery
Keep in mind that you can take more than one side gig. Don't exhaust yourself to the point that you risk falling behind in your main job.