LETTER: The 'crowd' of people in the 'Freedom Convoy' are no longer protesters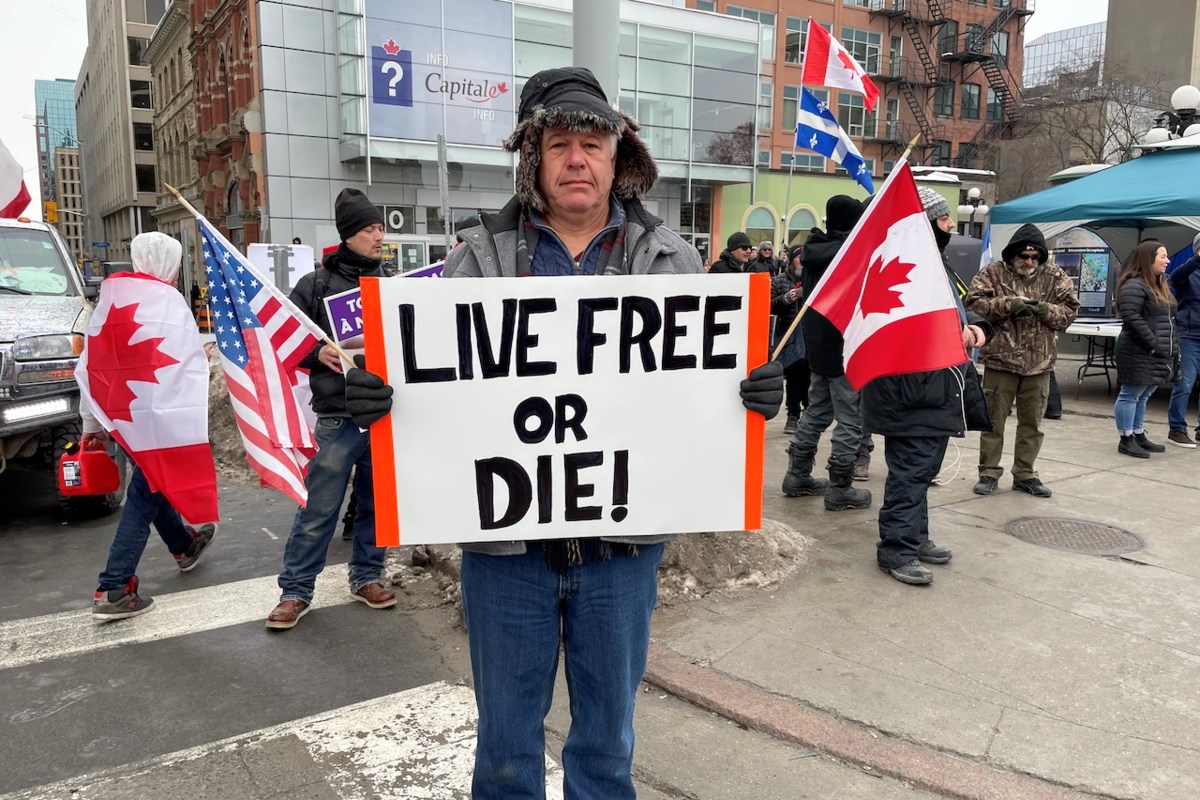 "To hold a ransom from the city for the repeal of democratically passed laws is not a protest, it is a public disorder," the author of the letter says
OrilliaMatters welcomes letters to the editor ([email protected]) This letter is in response to a story, titled 'Orillia man heads to Ottawa to protest warrants', published on February 8 and a letter to the editor, titled 'People need to stop repeating legacy media," posted February 11.
********************
A recent story in OrilliaMatters ("Orillia man travels to Ottawa to protest warrants") featured a local man intending to join the "freedom convoy" occupying downtown Ottawa and the area around an eastern stadium, demanding the repeal of pandemic public health measures and the resignation of the federal government.
A subsequent letter from a reader ("People need to stop repeating legacy media") defends the occupation, calling it a "peaceful and loving protest."
While I feel for the man who travels to Ottawa and the author of the letter supporting the occupation who, like millions of others, has assumed hardship during the pandemic, it is disturbing to read portraits of the occupation who present her as good people defending freedom and democracy against oppression.
These lend a sympathetic voice to those trying to force an end to science-based public health protections through intimidation and extortion, and the surrender of our recently re-elected government through means other than the ballot box.
Lest any of your readers confuse what is happening in Ottawa with peaceful protest and freedom of expression, a reality check is in order.
The "Freedom Convoy" occupying Ottawa receives foreign funding; it is framed and encouraged by dangerous American Republican politicians and organizers; hailed in US right-wing media as a spirit akin to the January 6 US Capitol uprising; and he is part of a well-organized and sophisticated network of Canadians and foreigners who attack our civil society and our sovereign prerogatives.
It disrupts and hurts thousands of peaceful citizens who are afraid to leave their homes, and it has appropriated public space in blatant and open disregard of the law to maintain good communities – what we call peace.
The man from Orillia who joins the occupation is not going to fight for freedom and wave flags, like in a scene from Wretched. He joins the ranks of people who attack peace and challenge majority rule.
Holding a city to ransom for the repeal of democratically enacted laws is not protest, it is public disorder.
Occupying a national capital and demanding the resignation of the government while coordinating with foreign and domestic groups to take control of national borders is not the exercise of democratic rights, it is an act of insurrection.
And while leading children to break the social contract is appalling by the most basic standards of responsible parenthood and civilized culture, it is furthermore reprehensible and contrary to all good things Canadian for them to be used as human shields against the police.
The people of the "Freedom Convoy" are no longer demonstrators. They have taken over streets and neighborhoods, placed their will above that of duly elected governments, absurdly elevated their wisdom above that of the global medical science community, and they act with a brazen contempt for those outside their ranks.
They are exactly what they sound like – a crowd. To yield to their will or to tolerate their actions is to accept mob rule. Likewise, we empower the crowd by failing to call out those who support and defend it.
John Hugh MacDonald
Orillia, Ont.