Paper recycling is at the center of the evolving EPR debate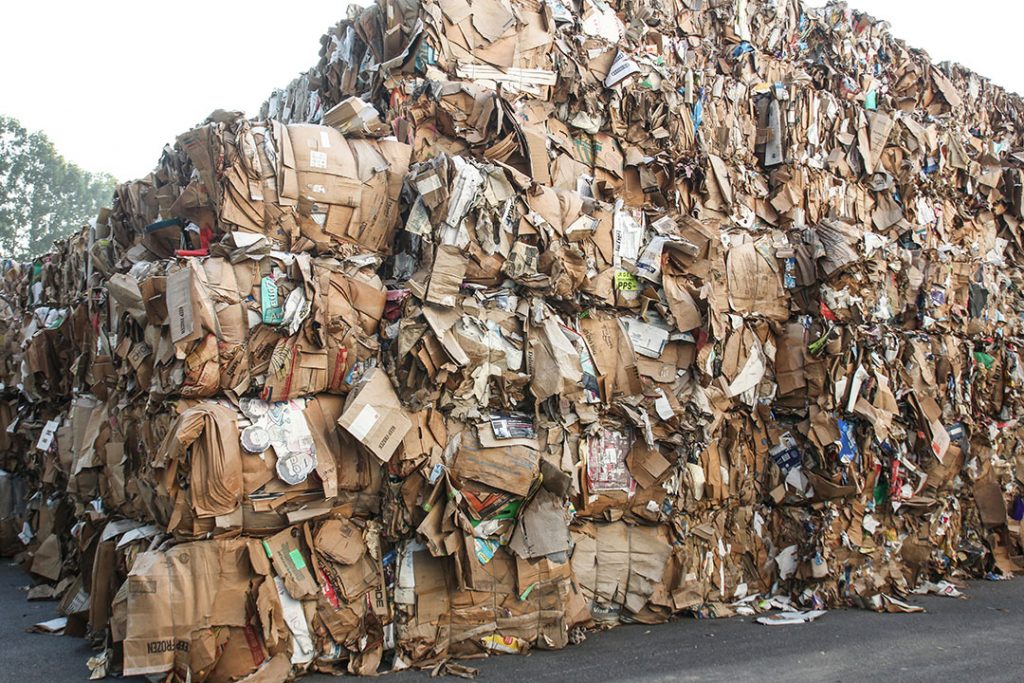 Broader national political trend
Colorado's EPR bill would require companies that sell consumer packaging and printed paper in or to the state to join a producer responsibility organization (PRO), with exceptions for small businesses and highly regulated, such as drugs. The PRO would then fund and manage, through assessments, a statewide recycling system.
The program would start in 2026.
Last year, Maine and Oregon introduces EPR for printed papers and packaging, although their approaches differ widely and many will be determined by the development of rules in the months and years to come. ERP has been introduced in a number of other states this year, although nothing has happened so far.
Throughout this activity, recycling stakeholders have actively engaged in political conversations in a major way, and the paper industry has become more vocal on its EPR concerns.
At the Colorado press conference, AF&PA's Webber said the paper industry has already committed to spending $5 billion by 2024 on investments in manufacturing infrastructure, and that any costs PRO would reduce the amount industry could spend on these investments.
Much of the papermaking sector's recent investment activity has focused on build or convert factories to consume more recycled contenta key trend in the development of the national recycling market.
Webber also said the paper industry has met or exceeded a 63% recycling rate in the past decade nationally.
The Recycle Colorado white paper, however, states that in Colorado, the paper recycling rate is 27%. If the OCC is not included in this chart, the paper recycling rate in the Centennial State is only 11%, according to calculations by Recycle Colorado. The group said 1.1 million tons of OCC and paper were landfilled in 2020 in the state.
Kate Bailey, Eco-Cycle's policy director, told Resource Recycling that the paper industry investments and the EPR bill are complementary efforts.
"The paper industry has invested a lot to increase national recycling capacity, especially in the wake of China's national sword, and it deserves to be commended for these investments," she said. "But those investments have largely been in paper mills and repackaging facilities" and not in collection and recycling systems.
"Producer responsibility funds the whole system," she added.
AF&PA's Webber told the press conference that in Colorado, 61.1% of people have access to recycling and 49.8% have access to residential curbside paper recycling.
He said he was concerned that the EPR bill would disrupt the success of the paper industry and that the industry might want to subsidize other materials that have done less well in recycling.
"We shouldn't be forced to fund others," he said.
"A solution is needed now"
Michael Washburn, senior policy director at The Recycling Partnership, told Resource Recycling that the paper industry has high recycling rates, but there is also a large amount of wasted product and there is potential for get a lot more. (The Recycling Partnership is a group supported by brands and other corporate recycling stakeholders, and it focuses on improving municipal recycling in the United States)
Washburn noted that data from the Recycling Partnership shows three out of five cardboard boxes in US households go in the trash, as does two-thirds of mixed paper. This represents at least 4 million tonnes of OCC per year and 11 million tonnes per year of mixed paper discarded.
These numbers are only increasing with e-commerce, he added.
"So what does the industry want to do to recover these lost tonnes? he said, adding that currently "this fiber is destined to become methane" and with the pressure of climate change "a solution is needed now".
However, opponents of the Colorado EPR bill also point to areas of concern beyond the question of the effectiveness of recycling in the current system.
As part of the AF&PA press conference, Rachel Beck, executive director of the Colorado Competitive Council, outlined several legal issues she sees with the bill.
"Our issues are not about recycling and increasing recycling access and participation," she said, adding that everyone she spoke with was supportive of increasing recycling rates.
On the contrary, she said she had concerns about putting a non-profit PRO in charge of such a venture. She said she thinks the bill could restrict the freedom of association of people identified as producers and could run counter to the doctrine of non-delegation by the state, which states that the legislature is responsible for certain functions and that it is forbidden to delegate them, in particular to a non-governmental organisation.
Beck also said Colorado recently passed away Proposition 117 requires voter approval of any new government-owned business that will charge fees in excess of $5 million a year, and depending on how the EPR bill's fee structure is laid out, the recycling system of l State could be covered by this requirement.
Bailey said she and the bill's supporters worked closely with the state's attorney general this week on amendments to ensure the bill fully complies with Colorado law.
"We've had many conversations and worked through a number of amendments with the state attorney general's office," she said. "We are in a much stronger position because these are big concerns."
Bailey also noted that local government leaders from the Colorado Municipal League and Colorado Communities for Climate Action are "strongly supportive of producer responsibility" and that more than 20 local governments testified in support of HB22-1355 at the first committee hearing.
Many local government leaders also signed a letter of support for the bill, as did several major brands and packaging producers, including Amcor, Coca-Cola, L'Oréal USA, Mars, Nestlé, PepsiCo, SC Johnson and Unilever United States.
More EPR/Stewardship Stories