Protesters Say Language of 'Divisive Concepts' in Budget Bill Would Chill Free Speech | Social problems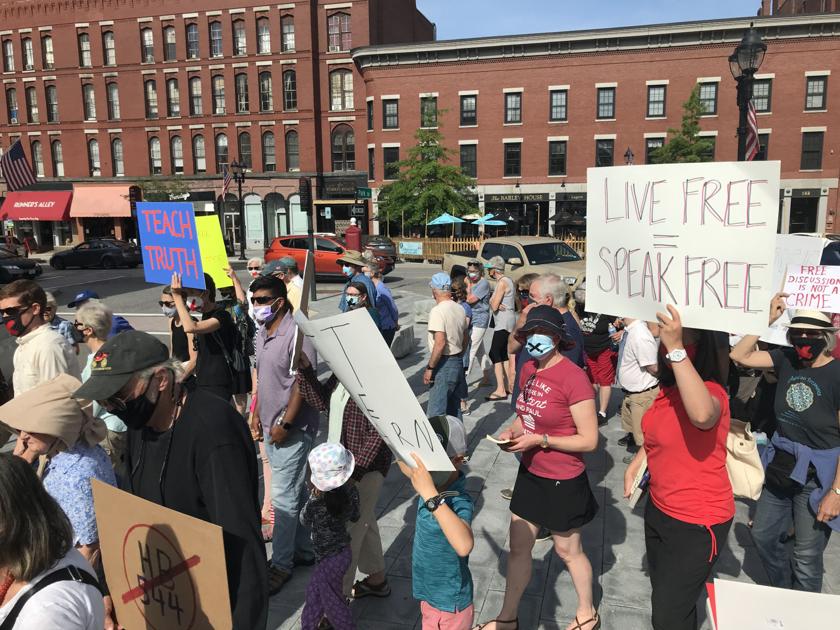 About 200 people gathered on Saturday afternoon to protest language in the state budget which would ban education or training on a list of "divisive concepts" in schools and government workplaces.
A stand-alone bill failed earlier this year, but similar language was added to the state budget bill. Supporters say the bill does not prevent teachers from teaching racism or workplaces from training employees about diversity.
But critics of the legislation gathered on Saturday said the legislation could very well end such discussions and training and is an affront to free speech.
A group carried a fake coffin around the State House on Saturday afternoon, signifying what they saw as the death of free speech.
"It sounds like a good thing, but if you really analyze it, it negates the story," Lidia Yen said of the legislation. She and other protesters feared the bill would force teachers to coat the darkest chapters in American history and leave students unprepared to face racism and other prejudice around the world.
Talking about a person's implicit or inherent biases can be uncomfortable, but for Lilly Tague-Bleau, a Manchester Central High School student and New Hampshire High School Democrats president, pointing out those biases should be an opportunity for growth.
Tague-Bleau said she was concerned the bill would cut such discussions in schools.
"I am concerned about a reluctance to initiate conversations," said Alisa Barnard, of Concord. She said she believes difficult discussions about race, gender and disability are essential in teaching.
"These can be some of the most important conversations that help you understand your classmates," said Barnard's daughter, Rebecca Barnard, 14.
Several protesters said they were worried about how this "divisive concepts" bill would chill the rhetoric without doing anything to protect minorities.
"This is the new red scare. This is the new cold war, "said Asma Elhuni of the progressive activist group Rights & Democracy. "This is not how you build a functioning multiracial democracy."