Rally held in Taipei ahead of National Tibet Uprising Day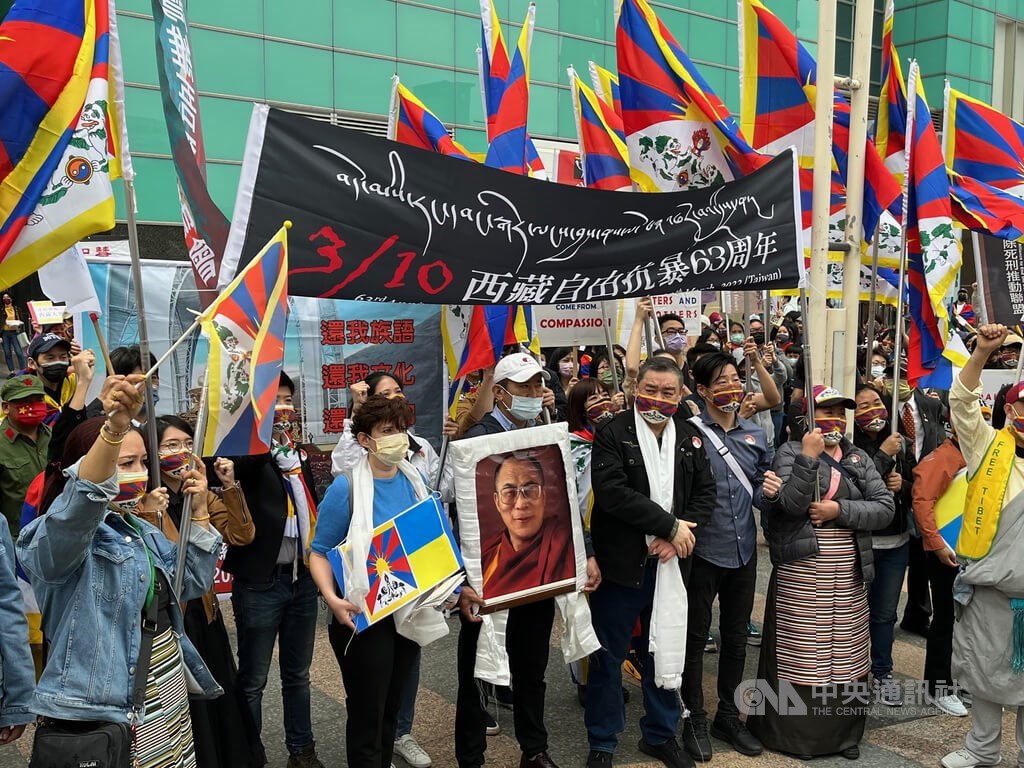 Taipei, March 5 (CNA) Taiwanese, Taiwan-based Tibetans, Uyghurs and Hong Kongers took to the streets of Taipei on Saturday to call for world peace, the liberation of Tibet and for Taiwan to pay attention to Tibetan issues , before the Tibetan government. Uprising day.
While the official day of the 63rd Tibetan Uprising Day, which commemorates the 1959 Tibetan rebellion against Chinese communist rule, is Thursday, March 10, a rally was held on Saturday to advocate for a stronger public response to Taiwan has decades of Chinese oppression in Tibet.
Before the start of the rally, the demonstration was opened by the singing of "Gyallu", the anthem of the Tibetan government in exile, which is banned in China.
Tibetan flags were also waved as three Tibetan monks chanted the scriptures of Tibetan Buddhism before a minute's silence was observed to honor the victims of the 1959 rebellion.
After the rally began, participants could be heard chanting "Free Tibet", "Tibet belongs to the Tibetans" and "Tibet needs human rights".
Taiwan Tibetan Welfare Association President Tenzin Namdak told the crowd that exiled Tibetans around the world commemorate the rebellion on March 10 every year.
He went on to condemn China for forcing the communist regime into Tibet, while saying that "communism is not equal to China" and that Taiwan should pay more attention to the issues surrounding Tibet.
Wu'er Kaixi (吾爾開希), a prominent student leader of Uyghur descent during China's Tiananmen Square protests in 1989, said in a speech that he was ashamed to have to witness the oppression of the Uyghurs, the invasion of Ukraine and Taiwan being the only country in the world to publicly release the Hong Kong documentary "Revolution of Our Times", in the 21st century.
However, he also added that many countries are beginning to reflect on the behavior of authoritarian states while strengthening democracy at home.
Lam Wing-kee (林榮基), a bookseller from Hong Kong who was once arrested in mainland China and later moved to Taipei where he opened a new bookstore, also addressed the rally.
Lam said Tibet, Hong Kong and Taiwan were under threat from the same authoritarian state and implored Taiwanese to watch "Revolution of Our Times" to contemplate the transformation Hong Kong has experienced.
Independent lawmaker Freddy Lim (林昶佐), who has attended the rally every year, was also present at the event.
In his speech, Lim said that neither Russia nor China have fully become internationally friendly states, even though most of the world expected it to.
The 1959 Tibetan Uprising began on March 10, 1959 when a revolt broke out in Lhasa, the capital of Tibet, in defiance of the occupying Chinese forces, according to the Human Rights Network for Tibet and Taiwan.