The Green Veil's John Leguizamo and Aram Rappaport talk about a new anthology series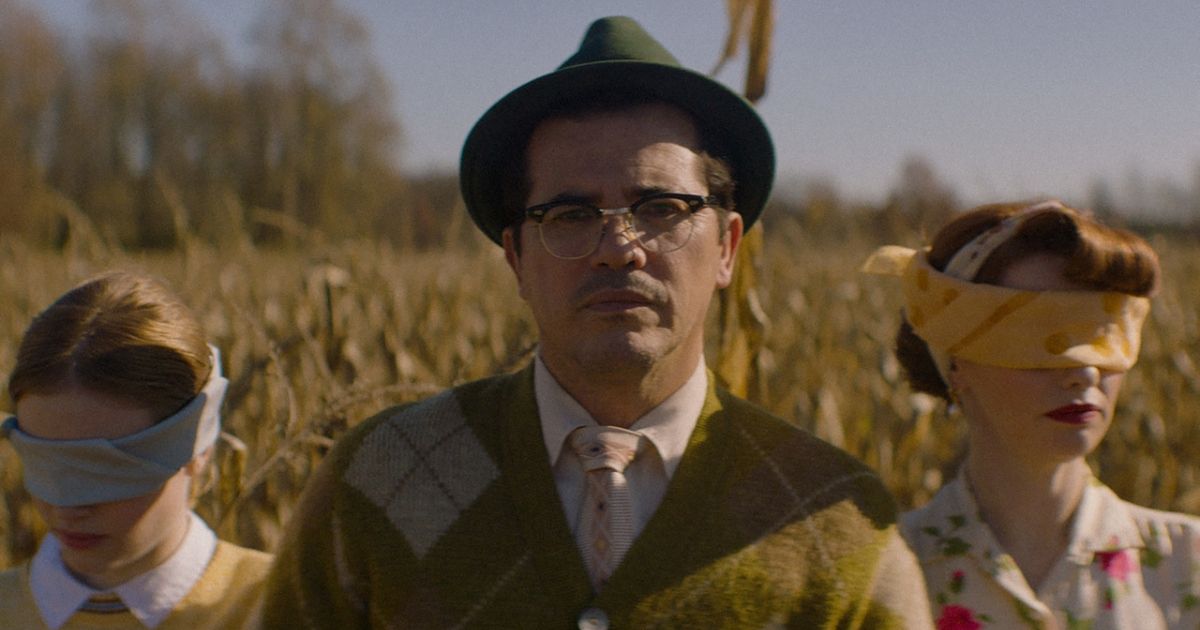 Quite simply, The green veil is a triumph for the producing partners John Leguizamo (the main actor of the series) and Aram Rappaport (writer, director and creator). Premiering at Tribeca 2022, the television anthology series deals with oppression in America. Leguizamo stars as Federal Agent Gordon Rogers, who is in the middle of a top-secret mission he must complete while navigating the struggles of his perfect family outside in post-war suburbia. We had the chance to interview Leguizamo and Rappaport before The green veilThe double-episode screening of Tribeca, which for them is more than exciting.
"It's the first time they've done it," Leguizamo says of Tribeca's inclusion of The green veil in their NOW Showcase A (Episodic Narrative) program. "What Aram has done here is a first. No one has ever shot a TV series – raised money, shot, edited – and [went] at festivals for [market it]. It always happens in the [network] system or streaming system. It's outside of that, so it could be the first step in a whole new pioneering journey."
The green veil marks a creative meeting between Leguizamo and Rappaport. The two had previously worked together on Leguizamo's Latin history for moronswhich, available to stream on Netflix, is a solo piece the actor created, per The Atlantic, as a way to give his teenage son "verbal ammunition to defend himself" against bullies who abused him due to his Colombian heritage. Latin history for morons was also how Leguizamo taught his audience how the American education system so naturally foregrounds a one-sided narrative — that is, a white side — blithely ignoring the contributions of racialized communities throughout history.
Rappaport worked closely with the Mohegan Tribe
As Latin history for moronsAmerican history is at the forefront of The green veil, raw and unsanitized. Immediately, The green veil opens with a young Indigenous woman, Isabelle (played by Jessica Marza), bound and gagged, screaming for her life in the backseat of a car. This comes moments after Isabelle's mother, Glennie (Irene Bedard), appears to refuse the sale of their land. Shortly after, we see Glennie running across their country, desperately chasing the car we believe belongs to Gordon and his FBI partner.
"I've always been enamored with the kind of oppression/repression of the 1950s, whether it was immigrants or [Indigenous peoples]or white families, from housewives to American dads who had to hold on," says Rappaport. "It was the impetus to create a family drama that was veiled in science fiction. [Adding] this sensationalism of potential UFO landings to something very nefarious and socially dishonest when it comes to John's character as an FBI agent seeking to reclaim land from [Indigenous people]."
Related: Best Indigenous North American Movies, Ranked
Leguizamo adds that, thanks to Rappaport's research before creating The green veil"[Aram] discovered that it was actually started by the US government in the late 1800s/early 1900s – taking [Indigenous] families' children and place them in boarding schools. We know because it made the headlines, but then he found out that in the 50s and 60s and 70s they were still doing it, but [instead] put them up for adoption – to assimilate them, basically – so they don't go back to the reserve [and] you can take the land and do what you want with it."
In order to properly – and intentionally – share this heartbreaking truth, Rappaport worked closely with members of the Mohegan Tribe. Naturally, this often posed a challenge asking them to revisit past traumas. Also, back when Rappaport was cutting the first two episodes of The green veil, news broke of the discovery of mass graves of Indigenous children in Canadian residential schools. "These are all trigger traumas," says Rappaport. "The Mohegan tribe healer told me the other day that someone in her family had been taken the same way [as Isabelle]. As a family, it's hard for them to pronounce his name because it's still so traumatic, it's two generations gone, this erasure."
The role of Gordon Rogers gives Leguizamo a lot to play with
Leguizamo's past performances, whether on screen or on stage, dramatic or comedic, all surely prove the actor's chameleon talent. However, The green veil arguably presents Leguizamo at its best. Gordon Rogers, whom Leguizamo describes as a "complex, self-hating Latino character," is creepy and brooding, yet full of life and magnetic. He may be the patriarch of his household – which consists of his wife Mabel (Hani Furstenburg) and their adopted daughter Abbie (Isabelle Poloner) – but it's clear that he lives in a prison within himself. Taken from his mother when he was just a boy, much like he would later alienate Isabelle from his own mother, the name "Gordon" is more or less forced on him by law enforcement. From there, he is propelled into a (presumably) predominantly white world, which leads him to internalize a closeness to whiteness as a marker of success. A big house in the suburbs, impeccable English, a beautiful wife and daughter, and a newspaper subscription, these are things that The green veil focuses on Gordon's desperate wants and needs.
Asked about how social consciousness and politics drive much of 21st century American film and television, Leguizamo says he feels "so lucky that in my lifetime we're finally getting to this point where the system studios, networks, streamers are making an effort to get our stories told — [Indigenous]black, latin and asian histories – and our contributions to the creation of this country because this country would not exist without [them]."
Where Leguizamo and Rappaport ultimately succeed — more than just bringing true American history to the screen, especially in a time when books are banned and critical race theory is challenged by parents — is making The green veil an exciting watch. Indeed, against the show's history of oppression is the imminent possibility of a UFO landing, a hot topic of 1950s America. "You have to do it in an entertaining way. ", says Leguizamo. "[These stories] must be brilliantly told for everyone to watch. And, here you have a thriller. There is a science fiction element to it. It unfolds and unfolds in a truly chilling, thriller-like way. Rappaport adds, "We didn't want to preach. We needed to get people to engage with the show from an entertainment perspective. Everyone loves a conspiracy theory. UFO landings are a true story. Land grabbing is a true story. We base [Gordon] on many people. […] All of those elements combined, to us, felt like this triangulation of a really interesting narrative that we wanted to push the envelope on."
The green veil just premiered in Tribeca and currently does not have a wider release date.