Who are the Uyghurs and why do they face oppression from China?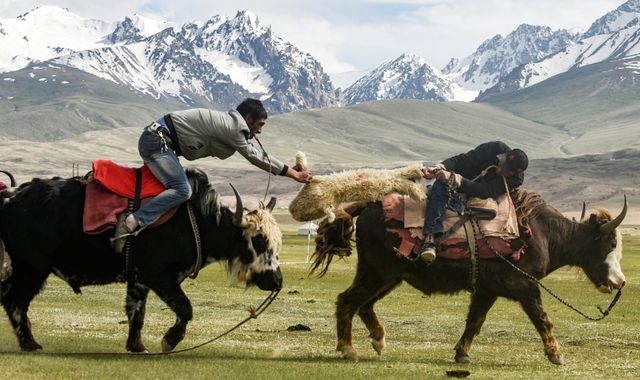 China has been accused of oppressing and violating the human rights of the Uyghur people in its western province of Xinjiang.
There have been numerous reports of Uyghur people detained against their will in "re-education" centers, subjected to forced contraception and subjected to a series of other restrictions.
China says the claims are "baseless" and have repeatedly denied any mistreatment of Uyghurs, saying they live in "peace and harmony".
But who are the Uyghurs – pronounced "wee-gers" – and why the Chinese state could would they target them?
Who are the Uyghurs?
Uyghurs are a group of people who mainly live in the Xinjiang region of China.
They have lived there for at least several hundred years and there is good evidence that they may have lived there in one form or another for several thousand years.
They are generally considered to be a Turkish people, which means that they speak a language related to Turkish and have ancestors who came from the traditional homeland of the Turks – north of Central Asia.
But studies of their genetic makeup suggest they also have ancestors from other parts of the world, with European DNA mixed with Chinese, South Asian, Siberian and Central Asian DNA.
What have the Chinese been accused of?
China is accused of having interned a million Uighurs in "re-education" centers in Xinjiang.
In 2019, leaked documents emerged that contradicted Chinese government claims that the detention camps were voluntary vocational training centers.
The classified documents appeared to confirm what former detainees had said, that the camps were centers of forced ideological and behavioral re-education, or brainwashing.
The Chinese government has been accused of forcing Uyghur women and members of other minorities to participate in birth control as part of a campaign to reduce its Muslim population.
Pictures have emerged in recent years claiming to show hundreds of blindfolded and chained prisoners – believed to belong to the Uyghur population – marching by guards in the town of Korla in Xinjiang.
Sky News also found evidence of the disappearance of exiled Uyghur children in Xinjiang.
Why could the Chinese oppress the Uyghurs?
Xinjiang, where an estimated 80% of China's Uyghurs are believed to live, is China's westernmost province.
It is a politically sensitive region – surrounded by eight other countries.
As the home of an important part of the Silk Road, it has long been used as a thoroughfare by which goods from China traveled.
Some, perhaps most, Uyghurs do not accept Xinjiang as part of China, citing evidence that Uyghurs lived in the region before the Chinese Han and Tang dynasties established protectorates.
Xinjiang, as it is today, came under Chinese rule from the Qing Dynasty in the 18th century, but there have been many times in its history where it was not under Chinese control.
In modern times, China has increased the number of non-Uyghurs in Xinjiang, so the proportion of Uyghurs in the region is declining.
Some Uyghurs regret becoming, in their opinion, increasingly marginalized on the land where they have lived for centuries.
What unites the Uyghur people?
The Uyghurs are predominantly Muslim and have been for at least several hundred years.
But they have a rich and complex cultural history, stretching back thousands of years, with archaeological sites in Xinjiang showing that many in the past adhered to Buddhist beliefs, as well as those of other religions that now have relatively few adherents.
The works of art found in caves in Xinjiang were made by Buddhist devotees who are believed to have been among the ancestors of the modern Uyghur people.
They show the diversity of society at the time, with images dating from the 5th to 14th centuries of Indians, Persians, Chinese and even some resembling Europeans on the cave walls.
Uyghurs are also united by a common language, which is linked to Turkish, and a shared culture of music, dance, food, and other traditions.
How long have the Uyghurs been in Xinjiang?
The oldest known inhabitants of the Tarim Basin, part of Xinjiang, are the Tarim Mummies.
The mummified remains have European characteristics and it has been claimed that people spoke a language related to European Celtic. They lived about 3,800 years ago.
But since then there has been a lot of influx of people.
One of the key factors that influenced who lives in the region is the presence of the Silk Road – the main global trade route from Roman times to medieval times – through Xinjiang along which traveled goods and people.
Some Chinese experts claim that Uyghurs arrived in Xinjiang around the 8th and 9th centuries after the fall of a more northerly society called the Uyghur Khaganate.
Other experts, however, say these arrivals were just one of many waves of immigration to the region, and the modern Uyghur population reflects these past population movements.
This article was originally published in 2020.
© Sky News 2021