WVU Students Fake Campus Censorship to Show Importance of the First Amendment | New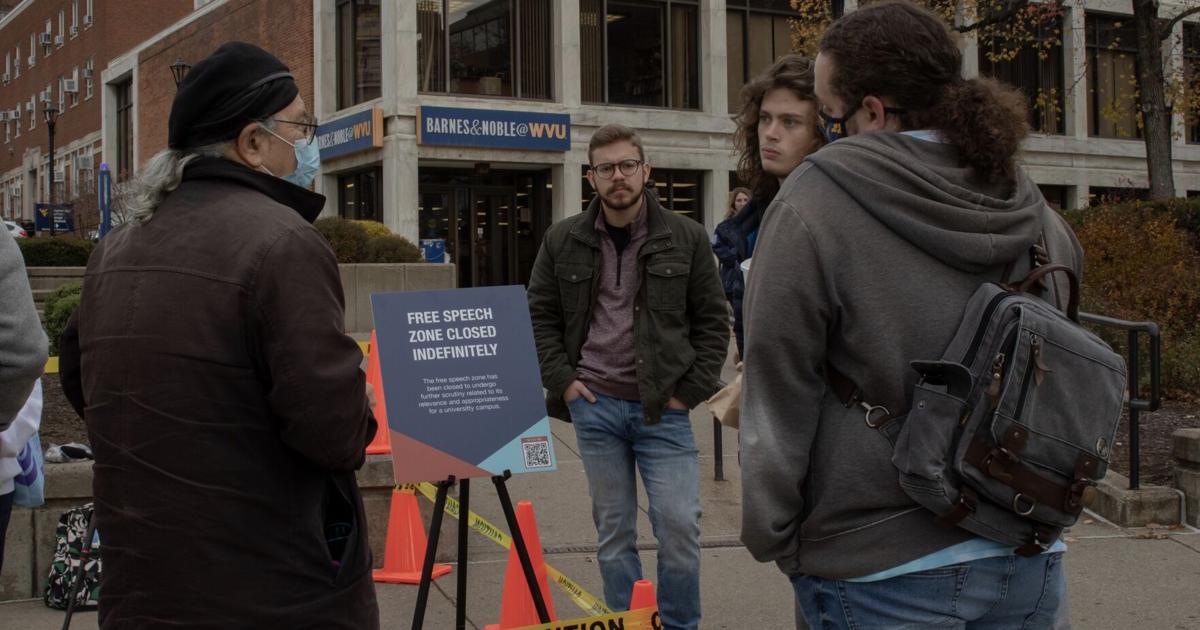 Warning tape on the exterior of the Mountainlair. An upside down flag inside Martin Hall. Signs around the campus announced the censorship of certain music.
WVU students may have noticed some of these peculiarities around campus last week. It was all part of a public campaign sponsored by the Martin Hall Agency (MHA) that culminated with a "closure" of the Free Speech Zone in front of the Mountainlair.
The public campaign and mock shutdown aimed to demonstrate the importance of the First Amendment and how it works on college campuses across the country.
"Our goal is to promote knowledge and awareness of First Amendment protections, especially among students," said junior Emma Magruder, junior public relations student and member of MHA's First Amendment account.
Martin Hall Agency is a student-run agency that enables people to learn advertising and public relations skills during their time at WVU.
Members of the agency were on hand during the event to answer questions and explain the importance of this initiative.
They pointed out that the Free Speech Circle had not been officially closed by the University.
"It's not real. We're not shutting down the First Amendment on campus, "Magruder said.
She added that the protest was created to represent what it would be like if the First Amendment were hampered on college campuses.
"The great thing we want students to take away from the event is that the First Amendment isn't guaranteed," Magruder said. She went on to explain that the indirect challenges of the First Amendment are increasingly common.
"They're not self-explanatory, but it's almost like a slippery slope. There are cases where things are, if not illegal, you are intimidated to the point where you can no longer do or exercise your First Amendment right, "Magruder said. "We really want to show people that your First Amendment protections can be threatened anywhere and it's really up to us to uphold them and call on them."
The First Amendment to the United States Constitution protects freedoms of assembly, religion, speech, press, and petition.
There was no social media campaign for this event.
"We wanted it to be genuine and to appear real," Magruder said. "And having organic interaction with people without pushing it."
The demonstration was entirely designed by active members of The Martin Hall Agency.
Aspects of this initiative included the "closure" of the Free Speech Zone, the American flag fluttering upside down outside Martin Hall as an illustration of distress, as well as flyers and infographic stations censoring historical figures and banning music on campus.
This event was funded by the 1 for All initiative, a national, non-partisan, non-profit educational effort at the Free Speech Center at Middle Tennessee State University. The initiative shows students what life would be like without the First Amendment.
Malori Tustin, a junior public relations student, actively answered students' questions at the event.
"People really pay attention to it. A lot of people might not necessarily tell us things, but definitely talk to each other, "Tustin said. "Really, all we wanted was to get people talking and getting people to discuss what's going on and want to know more. "
Martin Hall's agency plans to continue educating people on campus about the First Amendment and its importance.